Features
Newest version! (2023.09)
Can be used with balloon and whip
Precise temperature
Compact yet versatile design
Change settings via remote control
Digital LED screen
Customisable auto-shut timer
Who is the Arizer Extreme Q for?
The Arizer Extreme Q offers unbeatable quality and is perfect for those seeking a top-end vaporizer that's simple to use with unique features. It's ideal for seasoned vapers and beginners alike as it provides plenty of features without compromising on fast and great results. As one of the best-selling stationary vaporizers across the globe, it's not hard to see why the Arizer Extreme Q has gained such a positive reputation.
Premium Quality
The glass structure of this vaporizer ensures all herb vapour produced is 100% free of harmful toxins and tastes great. Its cutting-edge ceramic heating system effortlessly vaporizes all types of herbs and ensures that you will always get the maximal benefits from the herbs you choose to vaporize.
Its inner heating elements and sensors also allow the device to reach optimum temperature in just a mere 2 minutes, meaning you can get down to business almost immediately when it's time to enjoy some herbs.
Versatile
One of the biggest benefits with the Arizer Extreme Q is the power to enjoy your vaping experience with the whip attachment or balloon bag. You will also enjoy the automatic fan speeds, built-in temperature regulation, and a useful LED display so you have full control of its function. The settings can be controlled by the buttons on the base, but there is also a remote so you can kick-start its heating mechanism even when you're not in the room. The flexibility and ease of use the Arizer Extreme Q provides are what truly makes this a great vape.
Better still, if you're looking to branch out into more spiritual functions, this vaporizer can be used for aromatherapy purposes too. Use the included aromatherapy bowl as an oil diffuser to create a relaxing ambience wherever you are.
Optimum Safety & Convenience
If you feel yourself slowly drifting off to sleep, you'll never have to force yourself to jolt awake to shut off your vaporizer. Arizer Extreme Q will instantly shut itself off if time is passing without activity with an innovative auto-shut timer that can be set to either 2 or 4 hours. What is even more convenient is the accompanying remote control allows you to fully tailor your vaping experience without getting up from your seat.
Continuous Upgrades
Compared to when it first launched onto the market, the Arizer Extreme Q has undergone a vast number of upgrades and improvements to reach its current perfected design. With a premium design, structure and components to produce an outstanding vapor every time, you can rest assured you'll receive the best possible quality when ordering this vaporizer.
Warranty
The electronics of the Arizer Extreme Q are covered by a 3-year warranty, while the ceramic heating element comes with a lifetime warranty.
User Manual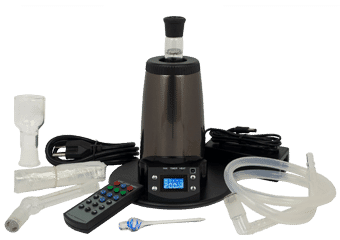 In the Box
Arizer Extreme Q vaporizer
Remote control
Silicone whip (90 cm)
All-glass mini-whip
Glass stirring tool
Screens
Aromatherapy bowl
"Cyclone" glass bowls (2)
Balloons with mouthpiece (2)
Mouthpieces (2)
Power adapter
Instruction manual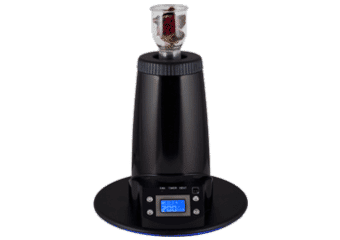 Specifications
More Information

| | |
| --- | --- |
| Size: | 15.2 × 15.2 × 19 cm |
| Weight: | 370 g |
| Heating: | Convection |
| Heat-up time: | 3 minutes |
| Power source: | Outlet |
| Temperature: | 50°C to 260°C |
| Manufacturer: | Arizer |
| Warranty: | 3 years |
| Country of manufacture: | Canada |