Features
Newest version! (2023.09)
Compact & portable
Impressive battery life
Full temperature control
60-second heating time
Who is the Arizer ArGo for?
The Arizer ArGo is ideal for those seeking a high quality vape to bring on adventures. It's portable and able to fit in most medium-sized pockets which means that this vape offers a perfect balance of lightweight convenience combined with digital temperature control, long-lasting battery life and great tasting herbs.
Compact & Portable 
Measuring-in at a mere 5 × 2,5 × 9 cm in size, the Arizer ArGo is easy to carry around and perfect to be taken on-the-go. This vape can comfortably fit into the palm of your hand and can be easily concealed. The retractable top to keeps everything in place for ease of carriage when not being used so you can prepare the herb load beforehand. If you value a vape that is easy to bring, but still capable of delivering dense vapour, the Arizer ArGo will satisfy your needs.
Easy to Use
The Arizer ArGo is a brilliant option for beginners with little vaping experience as it's so user-friendly. You can swap out the battery and even use this device whilst it's charging so you never have to worry about cutting a session short! It also features simple controls and smooth temperature regulation meaning you can adjust the settings during your session without any hassle.
Great Taste
With an innovative stainless steel air path and hybrid heating, the premium taste of your herbs is always guaranteed. The ArGo will produce impressive vapour every session and its efficiency ensures you will always vaporize the herbs you choose to their full potential.
Heats Up in Just 60 Seconds
Arizer ArGo is able to achieve a medium-range heat in just 60 seconds and reach its maximum heat of 220°C in just 90 seconds which means you'll never be forced to wait long for your vape to heat up. Starting a relaxing session as soon as you feel like it is easy with the Arizer ArGo.
Swappable Battery 
The accompanying 18650 type 3000 mAh battery can provide an impressive 75 minutes vaping time, but sometimes you might just want a longer session. Luckily, you can simply swap out your battery for a fully-charged one, meaning the only limitations you'll experience are the amount of batteries you can carry with you.
Better still, the Arizer ArGo has an innovative automatic shutdown timer if inactivity is experienced for a prolonged period of time. It helps save essential battery life if you happen to fall asleep or get distracted.
Warranty
The ArGo carries a lifetime warranty on the heating element and a limited 2-year warranty covering defects in materials or workmanship, excluding the battery.
User Manual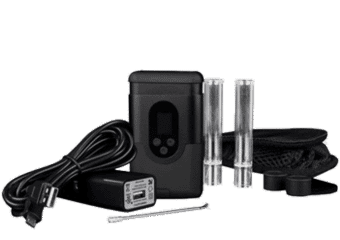 In the Box
Arizer ArGo vaporizer
Battery
Charger
Case
Stirring tool
Glass tubes (2)
Silicone tube covers (2)
PVC tubes with covers (2)
Screens (4)
Instruction manual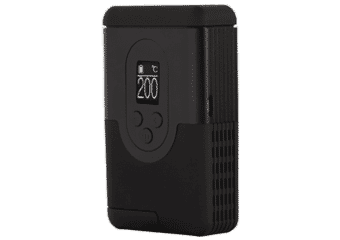 Specifications
More Information

| | |
| --- | --- |
| Size: | 5.2 × 2.4 × 9.3 cm |
| Weight: | 97 g |
| Heating: | Convection |
| Heat-up time: | 60 seconds |
| Power source: | Battery (3000 mAh) |
| Temperature: | 50°C to 220°C |
| Manufacturer: | Arizer |
| Warranty: | 2 year+ |
| Country of manufacture: | Canada |