Features
Newest version! (2022.04)
USB charging & swappable batteries
Full temperature control
Powerful airflow
Great tasting vapour
Impressive battery life
Automatic shut-off feature
Who is the Arizer Air 2 for?
If you value convenience, performance and affordability then the Arizer Air 2 could be the perfect choice for you. With its sleek design and compact size, this vape is very discreet and easy to take bring with you. It's ideal for both beginners and experienced vapers thanks to its easy-to-use controls that's combined with cutting-edge hybrid heating technology (convection and conduction).
Swappable Batteries & USB Chargeable
The Arizer Air 2 offers up to an impressive 75 minutes of continuous vaping from a fully charged battery – but this doesn't mean your session has to come to an end once the battery is depleted.
Provided you're carrying a spare charged battery, simply switch-out your current battery for a fully-charged option to continue your session. If you don't have a spare battery but still want to keep going your session going you can take advantage of the pass-through technology which means you can both charge and use it at the same time!
Powerful Performance 
Despite its compact shape and size the Arizer Air 2 is equipped with a powerful heating element and fully isolated air path. As its heating chamber operates via hybrid heating (conduction + convection) and comes equipped with a handy stirring tool, you can help your herbs receive even heat without getting combusted. As the air path is isolated and the mouthpiece is made of medical grade glass it provides great tasting vapour with every single draw.
Better still, the power of its inner heating element means the Arizer Air 2 can effortlessly keep pace with even the longest of draws. That makes it an ideal choice for experienced vapers who seek a vape with a performance good enough to match their draw technique.
Total Temperature Control
One of the Arizer Air 2 ourstanding features is the precise temperature control, allowing you to truly tailor your entire vaping experience to suit your requirements. It gives you the power to adjust its temperature by singular degrees which is great compared to vapes solely offering pre-set temperatures with no room for adjustment. It's easy to control the temperature via simple buttons on the device's surface and you can even change the temperature during in the middle of a session.
Digital LED Display
The modern LED display located on the front of the Arizer Air 2 contains all relevant information needed to keep full track on its function throughout your entire session. On the display you will see accurate temperature readings, battery status and signalling whether the device's auto-shutdown function has been activated meaning you'll always be up to date with everything your vape is doing.
Warranty
All Arizer Air 2 vaporizers sold by MagicVaporizers are completely authentic and backed by a lifetime warranty on the ceramic heating element, a 2-year warranty on workmanship and defects and a 1-year warranty on the battery.
User Manual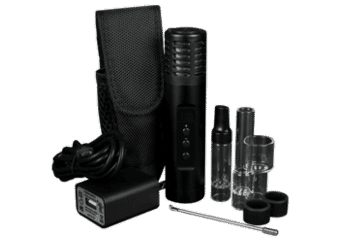 In the Box
Arizer Air 2 vaporizer
Battery
USB charger
Glass tube – 70 mm
Glass tube – 70 mm with end piece
Glass dish
Belt-clip carry case
Stirring tool
Screens (4)
Silicone tube covers (2)
Instruction manual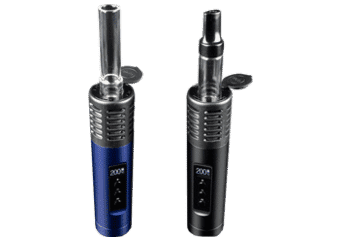 Specifications
More Information

| | |
| --- | --- |
| Size: | 2,9 × 12, 2 cm |
| Weight: | 126 g |
| Heating: | Hybrid (Convection+Conduction) |
| Heat-up time: | 90 seconds |
| Power source: | Battery (3000 mAh) |
| Temperature: | 50 to 220°C |
| Manufacturer: | Arizer |
| Warranty: | 2 years |
| Country of manufacture: | Canada |