Features
Newest version! (2023.08)
Top-quality, durable materials
Great tasting vapour
Easy to use
Extra-large chamber
Cooling steel coil
Unique design
Who is the Plenty Vaporizer for?
Despite its advanced technology and innovative design, the Plenty Vaporizer is perfectly suitable for both experienced vapers and beginners. It's simple to use yet offers more than enough control and quality to satisfy even the vapor experts.
If you like group vaping sessions with your friends then you will enjoy the Plenty's combination of an extra-large chamber and power through outlet instead of batteries. It features a design resembling a power tool and it's created by the same company responsible for the iconic Volcano, which makes it a great choice if you value both performance and great taste during your sessions.
Consistent Performance
The Plenty vaporizer is made using the highest quality medical grade materials which guarantees consistency and premium performance with every session. It features an exceptionally-built inner chamber and a superbly effective stainless-steel coil for cooling purposes. The innovative heating technology also provides even heating for your entire herb load, reducing risk of burning and ensuring consistently great tasting vapour.
Full Temperature Control
The temperature during vaporization is the most significant variable of the produced vapor's density and flavour so that's is why the Plenty offers seven pre-set temperature choices. Select the level you wish to use (from 37°C to 215°C) via the analogue gauge on the side and look at the gauge in the front to see the current temperature.
If you're still learning and aren't completely sure which temperature is most appropriate for your session, the Plenty Vaporizer's temperature dial displays a useful green heat zone to let you know about what the optimum temperature is likely to be.
Free of Batteries
The Plenty Vaporizer has been specifically created for reliable desktop use, meaning you'll never have to bother with replacing batteries or recharging the device. As it's powered by electricity from an outlet, the durability of this vaporizer is outstanding. It's been carefully designed with best quality materials throughout its entire structure to guarantee optimum reliability and longevity – meaning you have a vaporizer sure to last for many years to come.
Easy to Use
Whilst many desktop vaporizers may appear a little more advanced than smaller portable options, the Plenty Vaporizer has been designed with ease of use in mind. Simply pack-in your chosen herbs, connect the accompanying coil, replace the top and select a temperature setting. Once switched-on, this vaporizer can fully heat-up and begin producing top-quality vapour in just a few minutes. After a while when the temperature begins to decrease, the device's indicator light will start glowing. Simply push the button on the handle again to restart the heating process and wait for the light to go off again before doing the next draw.
Warranty
All Plenty Vaporizers sold by MagicVaporizers, an authorised distributor of Storz & Bickel products, are authentic and backed by a 3-year warranty, restricted to normal use.
User Manual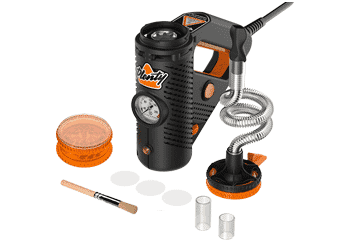 In the Box
Plenty vaporizer
Filling chamber
Cooling coil
Mouthpiece
Tubing section (long)
Tubing section (short)
Cleaning brush
Plastic grinder
Screens (3)
Instruction manual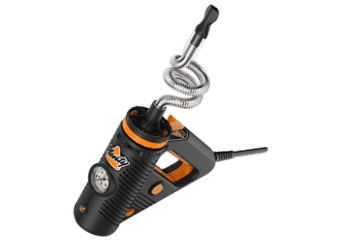 Specifications
More Information

| | |
| --- | --- |
| Size: | 5.2 × 5.0 × 22.6 cm |
| Weight: | 635 g |
| Heating: | Convection |
| Heat-up time: | 3 to 5 minutes |
| Power source: | Outlet |
| Temperature: | 37°C to 215°C |
| Manufacturer: | Storz & Bickel |
| Warranty: | 3 years |
| Country of manufacture: | Germany |