DynaVap M+ (Plus) Features
Newest version (2023.05)
New finless design
One-heat-cycle extractions
Expanded oven capacity
Ready for microdosing
Manually heated
Who is the DynaVap M+ for?
The DynaVap M+ is designed for both new and experienced users that wants the latest advancements in manually heated vaporizers. Its innovative design allows for more efficient and satisfying extractions with less effort, making it an excellent choice for those who want to take full control of their vaping sessions.
New finless design for enhanced performance
With a finless design, the DynaVap M+ has increased mass at the base for improved heat absorption and retention, resulting in fuller extractions.
Heat the Captive Cap for a familiar experience or follow DynaVap's advice and heat the base for an intense, deep extraction. Open the air-port on the side and experience a DynaVap session like never before.
One-heat-cycle extractions
The DynaVap M+ tip is thermally optimised for one-heat-cycle extractions, allowing you to vape an entire bowl with a single heat-up. This feature sets the M+ apart from other DynaVap models and offers a unique, efficient vaping experience.
Expanded oven capacity
You can now enjoy more herbs in one go with the DynaVap M+ as it features an oven chamber that is 12% larger than previous M models for an even more powerful experience.
Stylish design updates
The DynaVap M+ boasts a square air-port and a sleek, edgy striped finish on its body that both look visually appealing and make for a comfortable grip.
Take control with manual heating
To heat the DynaVap M+, a torch lighter is the most popular way and as it lets you fully control the heating. Aim the torch on the M+ depending on how you want to vaporize and then listen for the 'click' that signals when it's the optimal time to inhale.
Ready for microdosing
The DynaVap M+ allows you to easily reduce the bowl size by half (from 0,1 g to 0,05 g) for smaller loads by simply removing the tip and adjust the screen to the next slot.
Flavourful and potent vapour
Whether you prefer light, tasty vapour or thick, dense clouds, the M+ delivers. Heat near the top for a delicate flavour or closer to the bottom for powerful, full extractions.
Improved o-ring design
The DynaVap M+ tip now uses two silicone O-rings instead of three, and none are visible when the tip is installed. This update reduces metal-to-metal contact and makes the unit even more durable.
Upgrade to induction heaters
If you appreciate DynaVap but prefer not to use a torch lighter, consider an induction heater such as the Ispire Wand. While larger than a torch lighter, induction heaters offer unmatched convenience and consistency. Simply insert the tip and let the heater take care of the rest.
Warranty
All DynaVap M+ vaporizers sold by MagicVaporizers, an authorised distributor of DynaVap products, are authentic and backed by a 2-year warranty, restricted to normal use.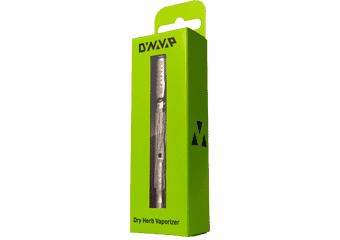 In the Box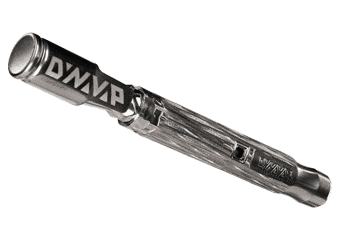 Specifications
More Information

| | |
| --- | --- |
| Size: | 1.0 × 1.0 × 8.9 cm |
| Weight: | 21 g |
| Heating: | Hybrid (Convection+Conduction) |
| Heat-up time: | 12 seconds |
| Power source: | Torch or Induction |
| Temperature: | 150°C to 230°C |
| Manufacturer: | DynaVap |
| Warranty: | 2 years |
| Country of manufacture: | United States |
DynaVap M

Manual heating
Small and discreet
Made in USA

DynaVap Omni

Manually heated
Adjustable bowl and airflow
Made of titanium