Features
Newest version! (2023.09)
Lightweight & discreet
Hybrid heating
Powerful battery life that can be used while charging
Fast heating time
Easy to use
Who is the AirVape Xs GO for?
The AirVape Xs GO is a great choice for both beginners and experienced vapers due to its minimal size and high performance. Compared to its predecessor, the AirVape Xs, this vapes has a smaller, more discreet shape guaranteed to fit in the palm of your hand for ultimate discretion. It's easy to use as there is only a single button control and a selection of five temperature settings to choose from. So, if you're looking for a compact vaporizer that produces quality vapour without hassle, the AirVape Xs GO will make you satisfied.
Compact Design
A top selling point for the AirVape Xs GO is its impressively small size. It's specifically manufactured to fit into virtually any pocket or purse without feeling heavy and it only weighs just 57 grams which makes it easy to bring with you anywhere. The mouthpiece is magnetic and it's is easy to remove when it's time for a new load or for a cleaning.
Hybrid Heating
The AirVape Xs GO utilizes both convection heating (heated air) and conduction heating (heating via contact), allowing your herbs to be evenly heated for maximum efficiency. Combine the hybrid heating with a dual filter system present in both the mouthpiece and chamber and you will get a vape that's guaranteed to deliver tasty and thick vapour clouds every single time. The AirVape Xs GO may appear small, but it hits way above its weight class.
Pass-Through Technology 
Portable vaporizers have almost reached the same capacity as stationary vaporizers, but one of the previous disadvantages was running out of battery and having to wait for it to charge before being ready to continue the sessions. AirVape Xs GO solves this problem thanks to its use of pass-through technology, meaning you can both charge and use this vape at the same time! The battery has a decent capacity (1200 mAh), so you might not have to use it every day, but the days you do need to use it, it's a lifesaver.
Easy to Use
The AirVape Xs GO has a single button to carry out all functions, making it a very good option for beginners who might not need all the advanced features of usually included in the more expensive vapes. To make things even simpler, this vape has a built-in packing tool meaning you always have the opportunity to stir your herbs in mid-session.
You can choose from 5 pre-set temperatures (180, 190, 200, 207 and 215°C). Changing and selecting a specific temperature is super simple with the button and won't take many seconds. However, if you enjoy having full control over your vaporizer's temperature degree selection, you may find the AirVape Xs GO a little limited.
Warranty
The AirVape Xs GO comes with a 3-year warranty by MagicVaporizers and an additional limited lifetime warranty through the manufacturer.
User Manual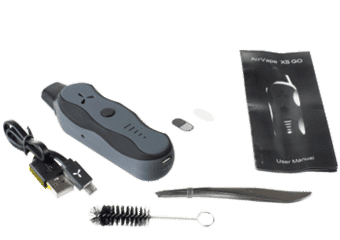 In the Box
AirVape Xs GO vaporizer
USB cable
Cleaning tool
Packing tool
Screen
Instruction manual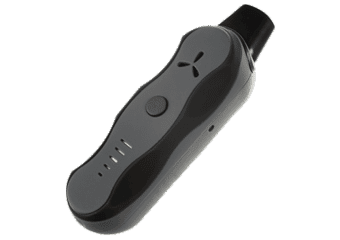 Specifications
More Information

| | |
| --- | --- |
| Size: | 2.5 × 2.5 × 10.0 cm |
| Weight: | 57 g |
| Heating: | Hybrid (Convection+Conduction) |
| Heat-up time: | 20 seconds |
| Power source: | Battery (1200 mAh) |
| Temperature: | 180°C to 215°C |
| Manufacturer: | AirVape |
| Warranty: | 3 years+ |
| Country of manufacture: | China |
AirVape Legacy Pro

Heats up in 15 seconds
Now with hybrid heating (convection and conduction)
20% bigger chamber for longer sessions

AirVape X

Easy to use and easy to clean
20 seconds heat-up time
Convection-conduction hybrid heating