Features
Newest version! (2023.08)
Ultra-thin, sleek design
Can be used with herbs, wax and oil
Easy to use
Larger herb chamber
Quick to clean
Quality performance
Who is the AirVape X for?
The AirVape X is hailed as one of the thinnest, most discreet vaporizers available on the market, which makes it the perfect option for those who love taking hits whilst on-the-go. And due to its impressive battery life, this vape is equally suitable for long-lasting sessions too. The combination of these two characteristics makes for a truly versatile option perfect for both beginners and seasoned vapers.
It's compatible with dry herbs, waxes and oils, and boasting a large herb chamber which means both less frequent refills and cleanings.
Slim, Discreet & Lightweight
The AirVape X is renowned for its ultra-thin, lightweight design – and it's not hard to see why. It's specifically created with discreet portability in mind which makes this vape easily fit into any pocket and can be discreetly carried around in the palm of your hand. Despite weighing just 90 g its inner electronics are enough to rival many larger vaporizers meaning the AirVape X is a true powerhouse despite its small size.
Impressive Performance
Whether you're seeking to vaporize herbs, waxes, or oils, you can feel confident that the AirVape X will deliver thick and flavourful vapour every time. The built-in hybrid heating system makes use of both convection and conduction heating methods to ensure that every single part of your chosen material is evenly heated. The aromatic vapour is then filtered through the dual-filter cooling system which helps produce silky smooth vapour every time.
25% Bigger Herb Chamber
The AirVape X offers a larger herb chamber than its predecessor, the AirVape Xs, which provides more capacity for even longer sessions to be enjoyed. And due to the larger, more expansive size of the bowl, it also makes cleaning and maintenance much easier.
Easy to Use with Full Temperature Control
As the AirVape X can be used to vaporize all types of material, it makes sense to assume it would be complicated to use. But that couldn't be further from the truth! Featuring just one power button and two convenient temperature control buttons, this vape is effortlessly simple – perfect for beginners.
It also offers the ability to select whichever degree you want between 93°C and 220°C meaning you have full control over the temperature of your sessions. The easy-to-read LED display provides accurate temperature readings at all times, and you can even switch between Celsius and Fahrenheit dependent on your preference.
Powerful Battery
The AirVape X battery lasts about one hour and requires about the same time to become fully charged. Thankfully the battery has pass-through charging enabled, meaning it can still be used while being charged! As it's chargeable via USB, you can easily charge this vape whilst away from home as long as you have access to a USB port.
Warranty
The AirVape X comes with a 2-year warranty by MagicVaporizers and an additional limited lifetime warranty through the manufacturer.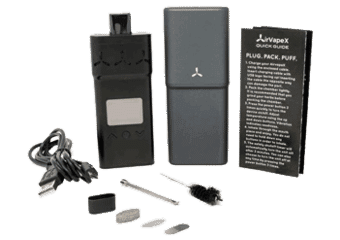 In the Box
AirVape X vaporizer
Protective shell
Wax pad
Maintenance tool
Filling chamber
Mouthpiece
Mouthpiece screen
Chamber screen
Pipe cleaners (2)
Silicone mouthpiece cover (2)
Instruction manual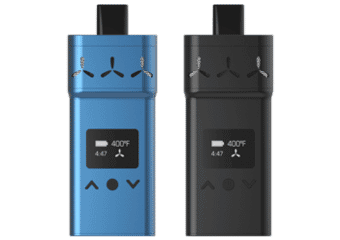 Specifications
More Information

| | |
| --- | --- |
| Size: | 4.7 × 1.2 × 10.4 cm |
| Weight: | 91 g |
| Heating: | Hybrid (Convection+Conduction) |
| Heat-up time: | 20 seconds |
| Power source: | Battery (1300 mAh) |
| Temperature: | 93°C to 220°C |
| Manufacturer: | AirVape |
| Warranty: | 2 years+ |
| Country of manufacture: | China |
AirVape Legacy Pro

Heats up in 15 seconds
Now with hybrid heating (convection and conduction)
20% bigger chamber for longer sessions

AirVape Xs GO

Lightweight and discreet
20-second heat-up time
5 temperature options (180°C to 215°C)