Features
Newest version! (2023.10)
Cutting-edge technology
Great tasting vapour
Total temperature control
Portable and discreet
Fast heating time
OLED screen
Impressive battery time
Who is the Fenix 2.0 Vaporizer for?
The Fenix 2.0 Vaporizer offers cutting-edge technology with smart design and is a great choice for those seeking a top-performing portable vaporizer with full control over their sessions. This vape is hailed for its innovative heating systems specifically designed to vaporize herbs and its the first vaporizer on the market allowing you to set a precise session time. If you want full control over the way you vaporize your herbs and look for a vape that produces dense, aromatic and smooth vapour with every hit you should consider the Fenix 2.0.
Latest Technology 
Inside the Fenix 2, there are incredibly impressive heating and cooling systems, guaranteeing premium quality taste every single time. It utilizes a convection heating method to successfully heat your herbs evenly without risk of burning, which means you will be able to extract greater active substances from your herbs than from many other portable vaporizers on the market. The produced vapour is rich in pure flavours and the clouds are thick and easy to breathe in thanks to this vape's rapid cooling method.
Full Temperature Control
Unlike many other portable vaporizers only offering pre-set temperatures that can feel a little restrictive (especially for experienced users), the Fenix 2.0 allows you to select the precise temperature you desire. It gives you the power to select an exact heat ranging all the way from 160°C to 220°C so you have full control over you're your herbs vaporization. Regardless of which temperature you choose, the Fenix 2.0 is able to fully heat-up in just 30 seconds, meaning you'll never be left waiting around long for your session to begin.
Extra Session Time
The Fenix 2.0 is hailed as the first vaporizer in the world with session timing. Thanks to a session time setting you can pre-set precisely how long you want your session to last before you start it. Then, once your chosen time is up, the device will automatically switch itself off to ensure you only vaporize during your pre-selected time span. With full control over your session time, you're eliminating the risk of overrunning and wasting battery life.
Impressive Battery 
The Fenix 2.0 comes equipped with a super high capacity 4400 mAh battery. It's fully rechargeable in just 2.5 to 3 hours despite its large size and can be used for up to an impressive 75 minutes on a full charge. The Fenix 2.0 offers up to twice the battery time compared to many other portable vaporizers on the market so you can feel confident knowing the battery life won't let you down. The useful OLED screen will display the battery status at all times which gives you an accurate warning when your device needs to be charged.
Warranty
All Fenix 2.0 vaporizers sold by MagicVaporizers, an authorised distributor of Weecke, are completely authentic and backed by a 2-year warranty.
User Manual
In the Box
Fenix 2.0 vaporizer
Titanium chamber
Chamber tool
Packing tool
Cleaning brush
Alcohol wipes
USB cable
Instruction manual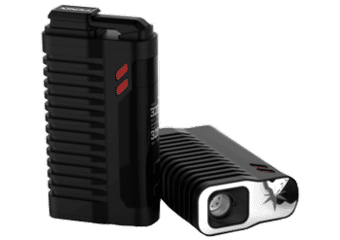 Specifications
More Information

| | |
| --- | --- |
| Size: | 6.0 × 3.0 × 11.0 cm |
| Weight: | 232 g |
| Heating: | Convection |
| Heat-up time: | 10 to 30 seconds |
| Power source: | Battery (4400 mAh) |
| Temperature: | 160°C to 220°C |
| Manufacturer: | Fenix |
| Warranty: | 2 years |
| Country of manufacture: | China |