Features
Newest version! (2021.09)
Heating from butane gas
Fast heat-up time (30 seconds)
Easy to use
Lightweight with foldable mouthpiece
Unique design
Up to 2,5 hours of vaping from one charge
Upgraded butane system
Who is the IOLITE WISPR 2 for?
If you value both style and function when choosing a vaporizer, the WISPR 2 is an excellent choice. It features a unique outer shell available in many colours that's both distinctive and aesthetically pleasing. If you appreciate vaping outside the home you then will appreciate the upgraded butane heating system that guarantees smooth, flavourful vapour in every session. As it's entirely powered from butane gas, you never have to worry about battery levels or finding an outlet to charge it from.
Clever Design
The cutting-edge design of the WISPR 2 allows you to visibly see the butane fuel level when it's held upright meaning you have with instant knowledge for when a refill is due and that you'll never be left suddenly running out of fuel. Another feature is the foldable silicone mouthpiece that can be easily hidden when not in use, making the WISPR 2 easy to bring in almost any large pocket or bag.
Rapid Heating Time
The WISPR 2 is able to reach peak temperature of 210°C in just 30 seconds, making it perfect for quick sessions when you just want to get vaping. Its superbly efficient butane heating system means smooth, dense vapour is produced immediately once heated up and that your herbs will be thoroughly vaped.
Impressive Run Time
The WISPR 2 only takes a mere 10 seconds to refill and after a full refill this vape can produce an impressive 2,5 hours of continuous vaporization. Thanks to the absence of a bulky battery it's super lightweight and perfect to bring with you on things like camping trips and festivals. The WISPR 2 offers incredible performance at a low price that's guaranteed to impress both beginners and pros alike.
Easy to Use & Clean
The detachable nature of the WISPR 2's mouthpiece makes it super easy to keep clean on a regular basis. As it's made using premium silicone, the non-porous nature of the mouthpiece guarantees optimum hygiene. This vape can be used by beginners with little vaping experience as it's been design with ease of use in mind – and it really shows. It's able to be switched on using a single button and then all you have to do is simply wait 30 seconds for max temperature to be reached and then you're ready to begin vaping.
Stylish Appearance
The modern design of the WISPR 2 is what makes this vape truly stand out from the crowd. If you're seeking something a little more unique than many of today's simplistic portable vaporizers with a uniform gloss finish, the WISPR 2's outer pattern is aesthetically pleasing and will look nice as a decoration when you're not using it.
Warranty
All IOLITE WISPR 2 sold by MagicVaporizers are backed by a 2-year manufacturer's warranty, restricted to normal use.
User Manual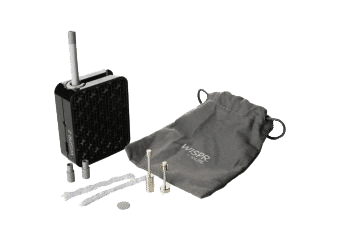 In the Box
WISPR 2 vaporizer
Mouthpiece
Carry case
Maintenance tool
Filling chamber
Fine mesh screen
Pipe cleaners (2)
Mouthpiece covers (2)
Instruction manual
Specifications
More Information

| | |
| --- | --- |
| Size: | 8,6 × 2,8 × 7,0 cm |
| Weight: | 126 g |
| Heating: | Conduction |
| Heat-up time: | 30 seconds |
| Power source: | Butane |
| Temperature: | 210°C |
| Manufacturer: | IOLITE |
| Warranty: | 2 years |
| Country of manufacture: | Ireland |