Features
Advanced hydraulic technology
Bong-like experience
Flavoursome and smooth vapour
Built-in stirring tool
Powerful battery
Accurate temperature maintenance
Easy to use
Who is the Hydrology 9 for?
The Hydrology 9 is hailed as one of the most technologically advanced vaporizers on the market today and it's is a great choice for experienced vapers looking to push the boundaries for vaping. Intensive research has gone into creating this vape to replicate the sensation of using a bong and to guarantee the best possible vapor. It utilizes a unique hydraulic system and is made using the highest quality materials which combined with the futuristic design makes it truly stand out from all other vapes.
Innovative Liquid Filtration
Inside the Hydrology 9 there is an intricate hydraulic filtration system that effectively cools the vapour via water after the great flavoured vapour clouds are generated. The reason for choosing this type of filtration system is to replicate both the taste and feel of a bong, providing a truly unique experience when compared to all other portable vaporizers.
It's not quite pocket-sized but it's still portable and easy to carry around and you'll never have to worry about unexpected leaks. Despite the presence of water within its system, the entire structure of this vape has been designed to be 100% spill-proof.
Consistent Heat Distribution 
Unlike many other vapes that makes it complex to stir your herbs mid-way through a session to ensure even vaporization, the Hydrology 9 does all the hard work for you. This vape has a built-in, heat resistant stainless-steel stirring tool integrated within the bottom chamber cover that allows you to efficiently redistribute your herbs with minimal effort. It helps to reduce wastage and ensures you experience maximum effect from your herbs every time.
Accurate Temperature Monitoring 
The Hydrology 9 has been equipped with an advanced microchip processor for optimum temperature maintenance and control. Once you've selected your prefered temperature level, this in-built processor accurately tracks the device's temperature and keeps it steady at all times. As it's adjusts the heat within milliseconds to prevent any degree of fluctuation, you're guaranteed to experience a solidly consistent temperature during your entire session – with no hassle or changing settings required on your part.
Easy to Use 
Whilst the Hydrology 9 system may sound complicated, it's really easy to use! Simply press the power button three times in quick succession to activate the heating process. To track the heating process, all you need to do is look at the light-based control system.
It only takes 60 seconds to heat-up and as soon as the lowest temperature has been reached bright blue LED light will turn on. Varying light colours will appear dependent on current temperature that keeps you informed about the current heat level. You'll also find a useful LED battery display that provides accurate battery readings. The battery is built-in, has a capacity of 2000 mAh and can last up to an impressive 15 sessions.
Warranty
All Hydrology 9 vaporizers sold by MagicVaporizers, an authorized distributor of Cloudious 9, are completely authentic and backed by a 2-year warranty.
User Manual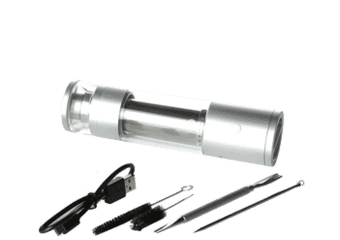 In the Box
Hydrology 9 vaporizer
USB cable
Packing tool
Cleaning brushes (2)
Instruction manual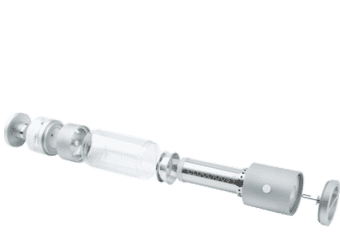 Specifications
More Information

| | |
| --- | --- |
| Size: | 4,5 × 17,6 cm |
| Weight: | 413 g |
| Heating: | Conduction |
| Heat-up time: | 60 seconds |
| Power source: | Battery (2000 mAh) |
| Temperature: | 170°C to 210°C |
| Manufacturer: | Cloudious 9 |
| Warranty: | 2 years |
| Country of manufacture: | China |