Features
Compact & pocket-size
Temperature up to 220°C
Stylish design
Multiple colours available
Swappable battery
40 seconds heat-up time
Adjustable oven size
Full digital temperature control
Who is the DaVinci MIQRO for?
If you're seeking a simple yet effective portable vaporizer that is capable of producing aromatic and dense vapor, you should strongly consider the DaVinci MIQRO. It's specifically designed to be practical and discreet and you can easily bring it in almost any pocket or bag which makes it perfect for taking with you out from home! With many useful features such as an adjustable oven, fast heating time and multiple temperature settings, the DaVinci MIQRO guarantees a truly unique vaping experience.
Compact & Discreet
The DaVinci MIQRO is considered one of the smallest vaporizers on the market, making it a brilliant choice for those who love taking hits and experiencing vaping away from home. Thanks to its small size, it both looks stealthy and is easy to hide in the palm of your hand so you can enjoy vaping in places where discreetness is required.
Rich Flavour
The DaVinci MIQRO innovative heating system is designed to bring out the true flavours of your herbs, guaranteeing you'll inhale vapour that's both aromatic and dense. It utilizes a cutting-edge Zirconium airway in combination with a ceramic oven so the flavours produced within your vapour clouds stay pure and free from toxins. Better still, the DaVinci MIQRO's air path provides a powerful cooling effect to the vapour before it reaches your lips, guaranteeing maximum comfort with each draw.
Multiple Temperature Settings
A versatile feature of the DaVinci MIQRO is its numerous temperature settings that allow you to customise your session depending on the herb. There are three modes; Boost mode which rapidly increases the temperature, Smart Paths which increases the temperature gradually in steps, and a precise temperature control up to 220°C. Another impressive thing about the DaVinci MIQRO is that it can fully heat-up in less than 40 seconds, meaning you'll get your sessions going quickly.
Adjustable Oven Size
The DaVinci MIQRO gives you the opportunity to adjust its oven size by up to an impressive 50%. This allows you to customize the session to suit your preferences as you can decrease the oven size to help you get the most out of your herbs – especially when you don't have much to load. The DaVinci MIQRO helps produce denser vapour clouds and ensures that every single part of your herbs is heated to perfection thanks to its stand-out feature – the adjustable oven.
Swappable Battery 
Provided you have a fully-charged battery ready to go, the session length you can experience with the DaVinci MIQRO is virtually endless! Whilst this vape can provide up to 30 minutes of continuous vaping from a fully charged battery, this doesn't mean your session has to stop there. Simply swap-in a new, charged battery and you can continue with ease – no time-consuming charging required in between.
Warranty
All DaVinci MIQRO vaporizers sold by MagicVaporizers, an authorised distributor of DaVinci, are completely authentic and backed by a 5-year warranty on the device and a 1-year warranty on the battery.
User Manual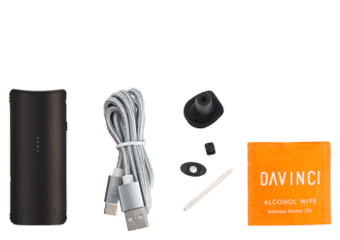 In the Box
DaVinci MIQRO vaporizer
Battery
USB charging cable
Flat mouthpiece
Extended mouthpiece
Accessory kit
Cleaning kit
Instruction manual
Specifications
More Information

| | |
| --- | --- |
| Size: | 3,4 × 2,3 × 8,0 cm |
| Weight: | 104 g |
| Heating: | Conduction |
| Heat-up time: | 45 seconds |
| Power source: | Battery (900 mAh) |
| Temperature: | 149°C to 221°C |
| Manufacturer: | DaVinci |
| Warranty: | 5 years |
| Country of manufacture: | China |
DaVinci IQ2

Five adjustable airflow levels
Heats up in less than a minute
Innovative dosage control

DaVinci IQC

Removable 3000 mAh battery
Precise temperature control (0 to 221°C)
Charges in 2 hours with USB-C