Features
Newest version! (2021.07)
Swappable 3500 mAh battery
Complementary app
Fast heating time (10 to 30 seconds)
Vibration notifications
120°C to 221°C temperature range
Pure, aromatic and dense vapour
Who is the DaVinci IQ for?
With its smart design and portable nature, the DaVinci IQ is ideal for those looking to experiment with different features and enjoy vaping when away from home. The easy-to-use app provides maximum flexibility and control over your vaping experience and the innovative cooling technology makes sure you will only get smooth vapor every time.
Great Flavour
As delicious taste was at the top of the list during the DaVinci IQ's design process this high-tech vape utilizes a ceramic oven alongside three impressive cooling techniques to guarantee the best possible flavour regardless of temperature. Having been tested against multiple other vaporizers and consistently winning the long-lasting great flavour test, you can be sure the vapor from DaVinci IQ will never include unpleasant plastic or metal tastes.
Smart Settings
The DaVinci IQ features a range of different settings ideal for both pros and beginners such as the unique Smart Path technology which enables automatic temperature increases. There are also two more modes: Boost and Precision. The Boost mode allows for a sudden rise of the chamber temperature for those times you want to get the full potential out of your herbs, and the Precision mode lets you set a temperature that is then kept throughout the session.
Bluetooth Smartphone App 
The complementary Bluetooth app allows for full control and gives you the power to track your vaping activity directly from your smartphone. All you need is to connect to the DaVinci IQ via Bluetooth and then you can customise your entire vaping experience – without even having to touch the vaporizer itself. If apps aren't your thing, you can simply choose not to download it and opt for the more traditional method of changing the settings via the device's buttons. The choice is yours!
Stylish Design
Its smooth aluminium outer shell not only looks great – but feels great too. The compact shape of the DaVinci IQ makes it ideal to be conveniently brought in a pocket or bag. The place you where you load the herbs has a stylish mirror finish and its easy-to-read LED display provides all essential device activity information at a quick glance.
Replaceable Battery
The DaVinci IQ allows for an impressive 90 minutes of vaporization on a fully charged battery, but sometimes you may want even longer sessions than that. Unlike other vapes requiring you to stop your session and wait for the battery charge again, this vape only need a simple battery swap. It allows you to instantly switch-up your used battery for a fully-charged one and by doing so keep your sessions going for twice as long – provided you have a spare battery with you!
Warranty
All DaVinci IQ vaporizers sold by MagicVaporizers are completely authentic and backed by a 10-year warranty.
User Manual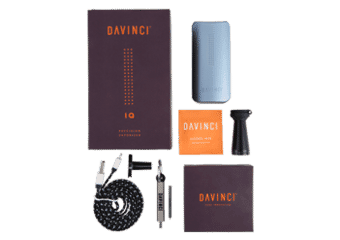 In the Box
DaVinci IQ vaporizer
Micro-USB cable
Flavour chamber
10 mm water adapter
Chamber tools (2)
Keychain tool
Alcohol wipes
O-rings and gaskets
Cleaning brush
Instruction manual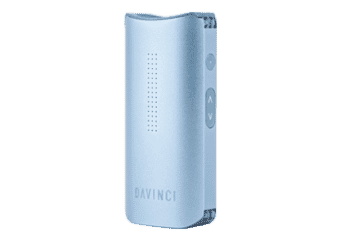 Specifications
More Information

| | |
| --- | --- |
| Size: | 4,2 × 9,0 × 2,4 cm |
| Weight: | 145 g |
| Heating: | Conduction |
| Heat-up time: | 30 seconds |
| Power source: | Removable battery |
| Temperature: | 121°C to 221°C |
| Manufacturer: | DaVinci |
| Warranty: | 10 years |
| Country of manufacture: | China |